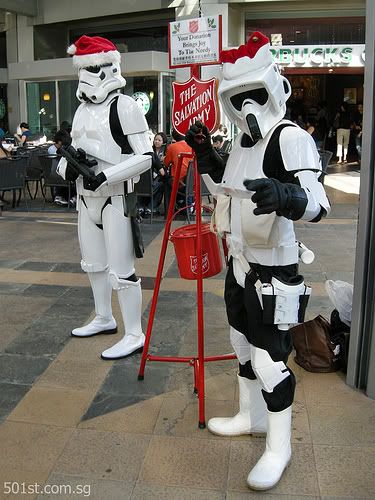 HA HA HA HA HA!!! Now that is a funny picture (thanks
GilRuiz
1 over on
photobucket
). Normally, I have nothing against The Salvation Army, and what happened to me was probably my fault, but still, it was one of those things that made me so mad...
I recently moved outta Brooklyn, and had a lot of good crap to hand over to The Salvation Army. The night before I was gonna go to the SA, I got out my roommates old lady cart and packed it up with about 40 books, two bags of clothes, a bag of shoes and some other odds 'n' ends. The first load of what I expected to be another two or three trips. I got up the next day all ready to get rid of all this stuff that has been cluttering up my place for years, and I drag the full cart down the stairs from our second floor apartment and head down 6
th
ave towards
Flatbush
, where the closest SA was, about 20 blocks away.

After blocks and blocks, dragging the old lady cart through intersections and over uneven sidewalks, breaking a pretty good sweat for September, I finally get there, and find out that they have closed that store and moved to Quincy St. WHERE THE FUCK IS QUINCY ST????
I was
SOOOOO
pissed. If that cart was mine, I would have left the damn thing right there on the sidewalk. I seriously was
thisclose
to ditching the damn thing and walking home. So, after cursing a bunch, I turn around and start wheeling the damn thing back home. I was definitely one of the mumbling people on my walk back. I honestly considered leaving bags and books randomly in front of buildings on the way home. No one would know where it came from, but it would be free stuff for everyone! Then I considered leaving it in the park for anyone to have. Maybe the homeless and downtrodden would like my free crap. Then I got all guilty about leaving my crap strewn all over my neighborhood, and didn't do any of that.
When I got home, I knew I wouldn't be able to drag that heavy cart back up all those stairs, so I took out all the bags and unloaded the books onto the front stoop, reloaded the cart, and pulled it back up into the entryway. I left it there and headed back out to grab some groceries and a coffee, things I was planning on doing on the way back with an EMPTY CART! By the time I got back home I had cooled down and got pro-active on the
interwebs
. I found a thrift store on 5
th
ave & 16
th
that will take everything. After all of that, I was only four blocks away from a thrift store that would take all my crap!!!!!!! And, the kicker is, the stuff they
didn't
want for the store, they would donate to... wait for it... The Salvation Army!
Arrrggghhhhhhhh
....

But good news in the end, I suppose. Sometimes it's hard to be good. *sigh*